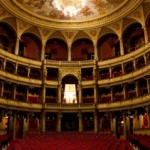 You can find Opera Budapest (The Hungarian State Opera House) downtown, at Andrássy út, one of the most preferred sites in Budapest.
The Opera Budapest, built in neo-renassaince style and decorated with baroque ornamentation, is a prominent building of the Hungarian capital. Due to its central location you shouldn't miss it if you are in Budapest! (Budapest Opera holds a guided tour every day from 3-4 PM, available in 6 languages.)
With a dozen premieres every year, opera and ballet performances from September to June almost every evening, Budapest Opera is must to visit attraction for everyone loving quality music. Due to it's significant state subsidies, Opera Budapest is still operating with one of the cheapest tickets on the planet. You can buy tickets as low as 2 EUR(!), and even the most expensive admittance is under 60 EUR, except some rare occasions.
The short story of Opera Budapest
The Hungarian Royal Opera House (former name) was opened in 1884. It has been the leader of Hungarian classical music life since its opening.
Budapest Opera House was designed by Miklos Ybl, an outstanding Hungarian architect of the 19th century.
Thank to the complete renovation in the early 1980's, you can visit Opera Budapest in its perfect, original conditions.
The capacity of Budapest Opera House is 1261 people, and according to Wikipedia it is the third best acoustic-quality performance theater in Europe right after La Scala and Palais Garnier.
Pfauer Tours Budapest sightseeing on foot: Opera Budapes and St. Stephen Basilica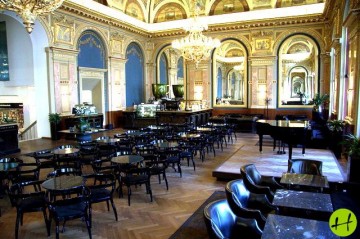 We offer a 2.5 hour tour to Opera Budapest and St. Stephen Basilica. (Visiting Budapest Opera House is possible only from 3 to 4 p.m. Above 10 persons we can make a private appointment). Upon request we visit an elegant café in the style of the Opera House (see picture).
ASK FOR OFFER