Egerszalók is one of the most popular and frequently visited places in Northeast Hungary. In the precincts of the village (population: 2300) lies a famous natural thermal spring, which makes this small place so famous. A 4-star hotel and spa resort was built along this thermal spring in the last decade.
The thermal bath with its environment is unique in the world, with a natural salt bath looking like the famous Pamukkale hot springs in Turkey.
Egerszalók is a perfect choice of travel if you prefer beautiful environment and excellent service.
If you are in Egerszalók, don't forget to visit the historic city of Eger. You also have the choice of nice hiking tours in the nearby Mátra and Bükk mountains.
Arriving in Egerszalók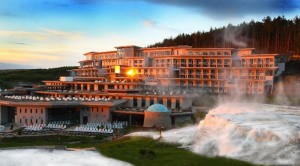 Egerszalók is located in the Northeastern part of Hungary, in Heves county, not far from the city of Eger. The village is 130 kilometers from Budapest, being a perfect choice for a one-day trip.
The spa and hotel complex will make your stay, however long it may be, unforgettable by catering to your every need.
With car
To get to Egerszalók, take motorway M3 from Budapest. Take exit 114 (Füzesabony, Eger) and continue northward on road 33 for 5 kilometers. Turn west in the roundabout and take another 4 kilometers on road 3. Make a right turn before Kerecsend, then crossing road 25 (avoid making a turn to Eger!). After approximately 5 kms – after passing the town of Demjén – you'll arrive in Egerszalók.
With public transport
There is a direct bus service between Egerszalók and Eger. To get to Eger from Budapest, you can take the bus or train, running frequently all day.
BACK