One of Budapest's main and most well-known sights is the Fisherman's Bastion. It is located on the Buda side, in the Buda Castle. It is popular both among foreigners and locals, as the terraces provide an unparalleled view: the capital, and the river Danube separating it can be admired in their full potential.
History of the Fisherman's Bastion
The name of the neoroman style Fisherman's Bastion suggests that in the ages it was built this part of the castle wall was protected by the guild of the fishermen. Following the sometime city walls around the Castle Hill, it was built near the middle ages fish market. Here the task of the fishermen was not only catching and selling fish, but if necessary, they were supposed to protect the bastion from the enemy. The Fisherman's Bastion is a national historic monument since 1987, also one of the World Heritage sites in Budapest, as part of the Castle District.
The Fisherman's Bastion has historic touches too: the seven stone towers decorating the bastion represent the seven Hungarian conquest chiefs.
Parts of the Fisherman's Bastion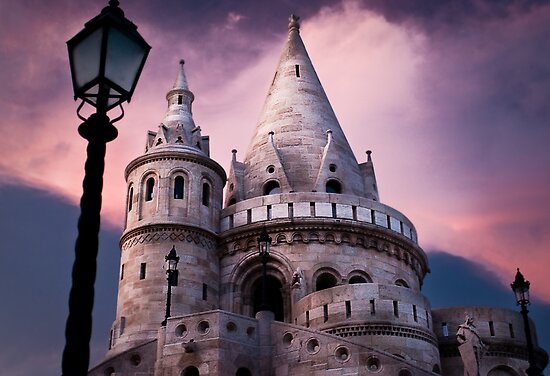 The Fisherman's Bastion has several parts, all of which provide unforgettable view and experience by itself. The stairs made of granite, which represent the signs of the Roman style, are catching and magical by their simplicity.
The corridors with the northern and southern bastions, which had been built for military purposes, later were transformed to complete an architectural unity with the St. Matthias Churc behind them.
The statues also contribute to the atmosphere of the bastion: St. Stephen, John Hunyadi, St. George and Julianus and Gerhardus monks – famous Hungarian historic personalities' statues are all great pieces of art, worth visiting if you get to the Fisherman's Bastion.
Approaching the Fisherman's Bastion
The Fisherman's Bastion is located opposite downtown Budapest, in the Buda Castle. By foot it can be reached walking up the castle hill. By public transport take the bus nr 16 departing from Deak tér or Széll Kálmán tér metro stops.
Apart from this, the Fisherman's Bastion can be reached by the Buda Castle Funicular within a special sightseeing tour. Because car parking is restricted in the Buda Castle, we don't suggest using your car. If you want to visit the Fisherman's Bastion by car, it is possible to reach the Castle District from the parking lot on the side of the castle.Mysneakers | Nike Shoes