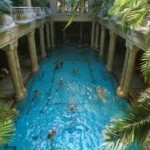 This program we carry out on foot. We visit the world-famous Gellért Bath, built in oriental Art Nouveau style.
The guided tour inside takes about 25 minutes, after wich we continue to the Hotel Gellért next door for a glass of champagne. Next we cross the Danube on the Freedom Bridge and arrive to the Market Hall, built between 1894 and 1897, place of over 180 market stalls and shops on three floors.
On the upper floor we visit the souvenir shops, snack bars and a bistro, while our guide tells about the hungarian specialities such as the salami, honey, paprika etc. Duration about 2.5 hours.
ASK FOR OFFER
Sports brands | Air Jordan 1 Παπούτσια & Ρούχα , Προσφορές, Στοκ, Φθηνά , Gov Sport