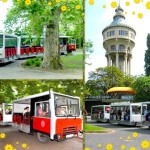 Margaret Island is probably the most famous and popular attraction in Budapest.The 24 acre island is situated in the very center of the city. Its central location, easy accessebility and the several recreational opportunities it offers make it one of the most popular destinations with locals and tourists alike.
Margaret Island Budapest – location and how to get there
Margaret Island is not far from the very center of the city, in the north between Margaret-bridge and Árpád-bridge.
To the East it's bordered by one of the city's most bourgeois areas, district XIII also known as Lipótváros, not far from Western Railway Station. To the West on the Buda side it is
surrounded by districts II, III and the magnificent mountains of Buda.
With Public transport
There are several ways to reach the Margaret Island with public transport. The most popular one among tourists is the tram 4-6 which has a stop called Margaret Island. From here the island is one minute walk. The other way is the bus number 26 which starts from Nyugati Railway Station and stop sin several places on the island.
By car
Although car traffic is forbidden on the island, on the north side there is a parking place connected to the Grand Hotel which can be used publicly. This car park can be reached from Árpád bridge.
On foot
If you're not in a hurry, Margaret island is easily accessible on foot thanks to its central location. The broad sidewalks of Margaret bridge make the island readily available both from Pest (in proximity of Western Railway Station and the Parliament) and Buda.
Margaret Island Budapest programs and attractions
Margaret Island is the 'Central Park' of Budapest, so a simple walk or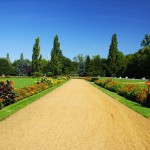 relaxation in the nature can be a whole one-day program.
There are several sport facilities in the island – Palatinus Beach, National Swimming Pool, tennis club, athletic field. Most of them are opened to the public, however there are important competitions organized there.
The Singing Fountain, the ruins, the huge flower-field, the small zoo and the Open-air Theatre are all make the an amazing experience in the Margaret Island.Nike shoes | Nike, adidas, Converse & More